USB Hardware Dongle Installation (GEN-I License Key DONGLE Users Only)
If utilizing the earlier "GEN-I Software Licensing Model", the supplied USB License Key (Dongle) and the USB Dongle Software Drivers MUST be properly installed before CompuHost will launch in an unrestricted, non-evaluation mode.
IMPORTANT: GEN-I Dongle users MUST be sure to download and install the "HYBRID" version of CompuHost. The HYBRID version includes the USB Dongle Drivers as needed, and installs them as part of the installation process. To download the latest releases of CompuHost please click here.
After installing CompuHost utilizing the "HYBRID" installer, and after verifying that the supplied USB Dongle is properly inserted into an available USB Port, CompuHost should launch in an unrestricted mode. If not, either the USB Dongle or the Software Drivers may not have installed properly.
To uninstall and reinstall the USB Dongle and Software Drivers please follow these steps....
Download and install the USB Driver Setup file by Clicking Here.

Follow the Onscreen Prompts

Once again, be PATIENT! This process may take a few minutes.

Plug in your USB License Dongle ONLY when directed to do so!.

Be sure to recognize and respond to any onscreen prompts, such as those that may be prompted by an installed Virus scanner or similar System Protection utility.

For Windows Vista/7/8 users, no further user interaction should be needed. Windows XP users please continue below...
Windows XP users may be confronted with the following dialog....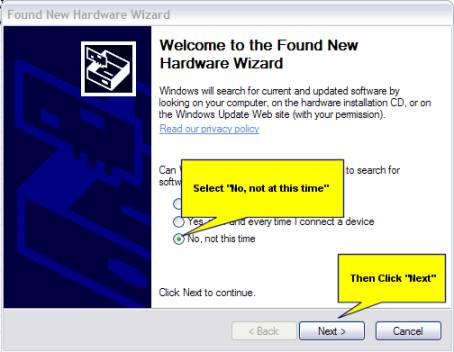 If so, select "No, not at this time".

And then click "Next" to continue.
The following screen will appear....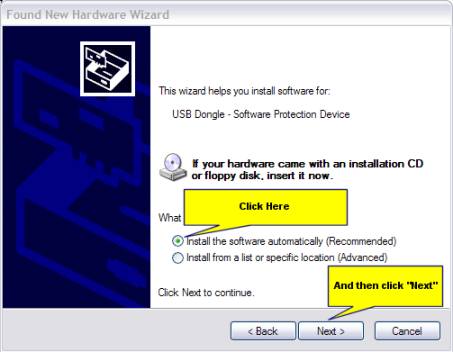 Click "Install the software automatically"

And then click "Next" to continue.
Windows XP will commence locating and registering the USB Software Drivers, after which the following screen will appear....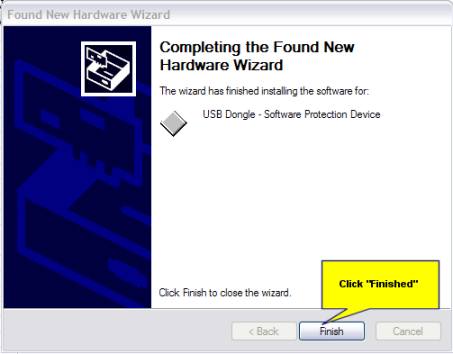 Click "Finished" to complete the installation process.